Law Library - Staff

Daniel A. Brackmann

Electronic Resourses Librarian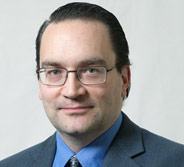 Phone: (713) 313-1107
Email: dbrackmann@tmslaw.tsu.edu
Education:
M.S. in Library and Information Science, University of Illinois at Urbana-Champaign, 2014
J.D., University of Cincinnati College of Law, 1999
B.A., Gustavus Adolphus College, cum laude 1994
Experience:
Electronic Resources Librarian, Texas Southern University, Thurgood Marshall School of Law, Houston, TX (2014-Present).
Associate, Jennings, Jacknewitz, & Schrader, P.C.; Belleville, IL (2005-2014)
Solo Practitioner, Washington, MO (2003-2005)
Associate; Buescher & Franke, L.L.C.; Washington, MO (1999-2003)
Current Licenses and Associations:
Licensed in Missouri and Illinois
Missouri Bar Association, 1999-Present
American Association of Law Libraries, 2012-Present
Special Library Association, 2012-Present
American Library Association, 2012-Present
Houston Area Law Librarians, 2012 –Present
Texas Library Association, 2016-Present
Publications:
Daniel A. Brackmann, The National Library in All but Name: The Evolving Dialectic About the Library of Congress as a National Library, Documents to the People, Winter 2014, at 32.