Craig L. Jackson

Professor of Law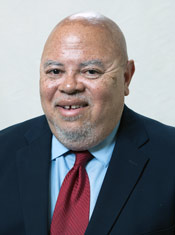 Phone: (713) 313-1098
Email: craig.jackson@tmslaw.tsu.edu
Joined the faculty in 1990.
Education:
B.A., Rice University, Houston, TX 1977
J.D., University of Texas School of Law, Austin, TX 1980
Biographical Information
Professor, Texas Southern University, Thurgood Marshall School of Law, Houston, TX (2000-Present)
Courses Taught
International Law
International Human Rights
Constitutional Law
Civil Procedure
Appellate Litigation
Select Publications
Advice and Consent (work in progress)
Constitutional Law Cases and Materials (5th ed. 2013) (with Martin Levy).
The Limiting Principle Strategy and Challenges to the New Deal Commerce Clause, 15 U. Pa. J. Const. L. 11 (2012).
Symposium Introduction: FDR and Obama: Are There Constitutional Law Lessons from the New Deal for the Obama Administration?, 15 U. Pa. J. Const. L. 1 (2012) (Lead Article).
The International Jurisprudence of Thurgood Marshall (work in progress).
The Second Amendment and the Myth of Neutrality: McDonald v. City of Chicago and Judicial Craftsmanship, available at http://works.bepress.com/craig_jackson/2 (2010).
United States Supreme Court's 2006-2007 Term, Civil Rights and Civil Liberties, and a New Direction, 36 CAPITAL L. REV. 511 (2008).
The Anti-Commandeering Doctrine and Foreign Policy Federalism - The Missing Issue in Medellin v. Texas, 31 SUFFOLK TRANSNAT'L L. REV. 335 (2008).