Gabriel Aitsebaomo

Professor of Law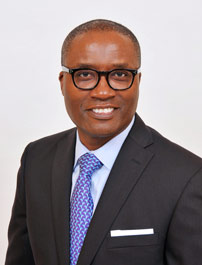 Phone: (713) 313-1127
Email: gaitsebaomo@tmslaw.tsu.edu
Joined the faculty in 2004
Education:
LL.M., Taxation, University of Florida, Gainesville, FL
J.D., Texas Southern University, Thurgood Marshall School of Law, Houston, TX
B.B.A, Accounting, University of Houston, Houston, TX
Certified Public Accountant (CPA)
Biographical Information
Associate Dean for Academic Affairs, Texas Southern University, Thurgood Marshall School of Law, Houston, TX (2008-Present)
Professor, Texas Southern University, Thurgood Marshall School of Law, Houston, TX (2009-Present)
Associate Professor, Texas Southern University, Thurgood Marshall School of Law, Houston, TX (2006-2009)
Assistant Professor, Texas Southern University, Thurgood Marshall School of Law, Houston, TX (2004-2006)
Tax Attorney, Enron Corp.; Unocal Oil Corp.(Chevron); Arthur Anderson LLP
Law Clerk, Andrews & Kurth, LLP

Courses Taught
Federal Income Taxation
Advanced Bar Review

Publications
Challenges to the Federal Income Tax Exemption of the Clergy and Government Support of Sectarian Schools Through Tax Credits Device and the Unresolved Questions After Arizona v. Winn: Is the U.S. Supreme Court Standing in the Way of Taxpayer Standing to Seek Meritorious Redress? 28 Akron Tax Journal 1 (2013).
The Individual Alternative Minimum Tax and the Intersection of The Bush Tax Cuts: A Proposal For Permanent Reform, 23 AKRON TAX J. 109 (2008).

Millions of Individual Taxpayers May Heave a Temporary Sigh of Alternative Minimum Tax Relief, THE HOUSTON LAWYER, Sept.-Oct. 2006, at 30.

New Texas Statute Authorizes Trusts for Care of Animals, THE HOUSTON LAWYER, Mar.-Apr. 2006, at 55.

No More Exoneration of Liens in Texas for Wills Executed on or After September 1, 2005, THE HOUSTON LAWYER, Nov.-Dec. 2006, at 57.

The Individual Alternative Minimum Tax: An Argument in Favor of Repeal, 74 UMKC L. REV. 335 (2005).

Ancillary Joint Ventures and the Unanswered Questions After Revenue Ruling 2004-15, 40 TEXAS J. OF BUS. L. (2005).

The Nonprofit Hospital: A Call for New National Guidance Requiring Minimum Annual Charity Care to Qualify for Federal Tax Exemption, 26 CAMPBELL L. REV. 75 (2004).


Affiliations

The College of the State Bar of Texas

Texas Society of Certified Public Accountants

American Association of Attorney-Certified Public Accountants

Research & Teaching Interests

Wills,Trusts, and Estates

Basic Federal Income Taxation

Corporate Taxation