What is Title IX?
Title IX of the Education Amendments of 1972 is a federal law that prohibits discrimination on the basis of sex in education programs or activities operated by schools, colleges and universities that are recipients of federal financial assistance (Such as Texas Southern University Thurgood Marshall College of Law). The Title IX law requires that no person in the United States, on the basis of sex, be excluded from participation in, be denied the benefits of, or be subjected to discrimination under any education program or activity receiving federal financial assistance. Prohibited conduct under Title IX includes any form of gender-based discrimination and includes sexual harassment, sexual assault, domestic violence, dating violence or stalking. Title IX's sexual harassment prohibitions apply to all students, faculty, staff, and visitors.
In addition, laws including Title VII of Civil Rights Act of 1964, the Violence Against Women Act (VAWA), and Texas State Law HB 212 also prohibit sex and gender discrimination. The term "Title IX" is often used as short-hand to describe sub-sets of policies, procedures, or programs that address sexual discrimination and harassment in higher education.
TSU Position Statement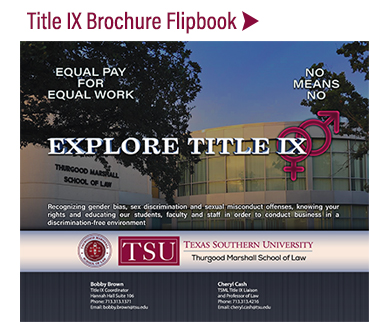 Texas Southern University's Office of Title IX is committed towards encouraging and supporting a welcome inclusive university community where all community members enjoy a university community free from sexual discrimination, harassment, assault, violence or stalking. Texas Southern University's Office of Title IX promotes and enforces university compliance that emulates the ethical principles and compliance requirements which are consistent with the mission of Texas Southern University, the University's tradition of excellence, and all Federal regulations, State laws, and University policies.
Texas Southern University policies prohibit sex discrimination and sexual misconduct (which includes: sexual harassment, sexual assault, dating violence, domestic violence, sexual exploitation, and stalking). Please review the University's Title IX Grievance Procedure and Sexual Misconduct Policies (MAPP 02.05.09 and 02.07.01) and familiarize yourself with the content. A copy is appended. In addition to MAPP, you may visit the TSU Office of Title IX website at http://www.tsu.edu/titleix.