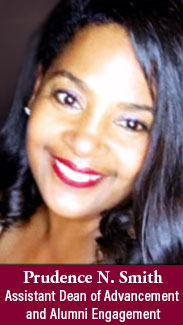 Dear Fellow Alumni & Friends,

As your Assistant Dean of Advancement and Alumni Affairs at our beloved Thurgood Marshall School of Law, my goal is to keep all of you informed about our law school's activities and initiatives with hopes of gaining your increased support and involvement. My enthusiasm and passion for the law school has only grown since I have had the pleasure of returning to what we all recognize is an extraordinary community of alumni, faculty, staff and students. It is my profound hope that each of you will join me in making this year a tremendous period of professional and personal growth by maintaining a close relationship with the law school.
The Office of Advancement and Alumni Affairs will help you do just that. Our External Affairs webpage is an essential instrument for keeping track of law school events. It also represents the quickest and most efficient way to update your alumni profile for our constantly improving directory. Additionally, you can read about and register for various programs and volunteer opportunities. For instance, if you're looking for a CLE course, the Alumni website represents an efficient and easy way to find out about Thurgood Marshall School of Lawsponsored CLE seminars in your area. Also, feel free to visit the photo gallery to view captured scenes from various events involving alumni. Lastly, if you have published an article, issued a press release or have any information you'd like other alumni to become aware of, please contact us. On many occasions, there may be an opportunity for us to include your communication in our e-newsletter.
In short, the Office of Advancement and Alumni Affairs is here to help, so please contact us at any time with your questions or suggestions.
Very truly yours,


Prudence N. Smith, Esq.
Advancement & Alumni Engagement
Mission Statement:
The purpose and mission of the Office of Advancement and Alumni Affairs is to enhance the mission of Thurgood Marshall School of Law ("TMSL") through four (4) distinct areas: Alumni/External Relations; Fundraising & Giving; Continuing Legal Education (CLE); and Alumni Communications. The goal of the Advancement and Alumni Affairs, is to engage and inform more than 4,000 living alumni throughout the U.S. and abroad; enhance opportunities for alumni, faculty and students and promote their success; position TMSL as a leader of diverse legal education in the country and sustain TMSL through several functions that produce financial and other support.
Current Goals & Objectives:
Develop and Increase Alumni Support for TMSL and Active Participation in the Life of the Law School.
Fund Raising for the Annual Giving Campaign, Bar Bridge Builder, and Earl Carl Institute for Legal and Social Justice.
Host at Least Ten (10) CLE Courses During the Academic Year.
Increase Professional Development for the EA Department.