Welcome to to the Office for Institutional Advancement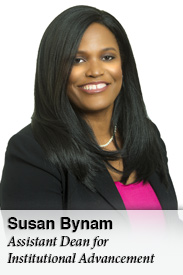 The Office for Institutional Advancement at Thurgood Marshall School of Law is the primary sourcefor strategic marketing/brand identification, publicity and media relations to promote our law school-based communications and events. Our office implements and supports fundraising campaigns and initiatives at the law school, as well.

Thurgood Marshall School of Law is a dynamic, professional institution that hosts a multitude of newsworthy events per year. The Office for Institutional Advancement stands ready to assist you with your marketing, communications, media and publicity endeavors.
Our office proactively seeks information, conceptualizes, writes and develops multi-layered communication plans and marketing materials, responds to media inquiries and requests and prepares the appropriate press communications for internal and external media circulation on behalf of our:
Law school

Administration

Faculty and staff

Students and student organizations

Alumni, internal and external partners

Legal Clinics, Institutes, and Externship Programs and

Collaborative projects with Texas Southern University's colleges and department
Interested in speaking to one of our legal experts on staff to support or promote a print or broadcast media feature?

Need assistance marketing or branding a TMSL program, initiative, departmental project or event?

Have a newsworthy story about your career or law school relationship that can impact our TMSL community?

Have you been recently honored for a professional or community-based achievement?
Have you partnered with our law school in any way which warrants media attention?
We want to hear from you!
Essential leadership is key for effectively keeping YOU in the loop:
Susan Bynam serves as Assistant Dean for Institutional Advancement at Thurgood Marshall School of Law and is currently in her third year of administrative service. Prior to joining the law school's administration, Bynam served in higher ed administration for 5½ years at Texas Southern University as Assistant Director of Development, University Advancement Division. Bynam has also held professional roles in the non-profit, corporate insurance, commercial banking, and legal sectors.

An avid writer with 100-plus published features to her merit, Bynam regularly interviews subjects and writes features and press communications for publication and circulation as a contributing writer for varied print media throughout Houston.

Bynam holds a Bachelor of Arts degree in government, with a minor in sociology from the University of Texas at Austin and a juris doctor (JD) degree from Thurgood Marshall School of Law.