Student Affairs - Current Students



Law Review
The most effective advocates not only possess excellent oral communication skills but also possess exceptional legal research and writing skills. Students at the Thurgood Marshall School of Law perfect these skills by editing the Thurgood Marshall Law Review. Now with over 40 years of publication, the Thurgood Marshall Law Review is an intense legal research and writing forum for legal scholars and practitioners from around the world.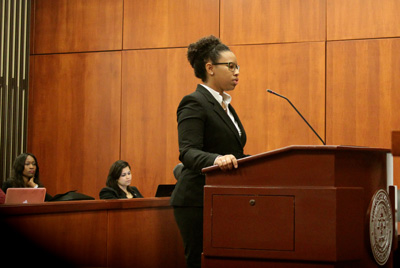 Moot Court/Board of Advocates
The Board of Advocates is a primarily student run organization at the Thurgood Marshall School of Law charged with coordinating and administering all of the intramural and extramural skills competitions. Membership includes over 50 students who participate in both regional and national competitions in three main areas: Alternative Dispute Resolution, Trial Advocacy, and Appellate Advocacy. Competition for a place on these teams is fierce during the try-out process, with multiple students vying for each spot. Teams receive coaching from professors, Executive Board Members, alumni, and fellow students.
Thurgood Marshall Tax Society (TMTS)
The Thurgood Marshall Tax Society develops programs and presents key speakers on topics concerning income tax issues. The organization provides tax services for the community and assists students in obtaining employment in the area of tax law.