ALUMNI SPOTLIGHT
Judge Valencia Nash'99

DALLAS COUNTY JUSTICE OF THE PEACE
PRECINCT 1   PLACE 2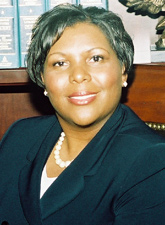 On April 11, 2006, Judge Nash was elected as the first African American female Justice of the Peace in Dallas County.  She was sworn into office January 1, 2007 and re-elected to serve a second term, January 1, 2011.  Judge Nash serves Precinct 1, which is a large area in the southern part of Dallas including the South Dallas area, Oak Cliff, Lancaster, Wilmer, Hutchins, Ferris, Balch Springs and the "Woods".


Judge Nash grew up in Dallas, Texas in the Highland Hills community and attended Wilmer-Hutchins High School.  She graduated from the University of Houston with a Bachelor of Science Degree in Political Science.  She received her Juris Doctorate Degree from Thurgood Marshall School of Law at Texas Southern University in Houston, Texas.

Judge Nash is licensed and has practiced law in Florida, Georgia, and Texas.  She has practiced in the areas of environmental law and justice, family law, juvenile law, construction law and litigation. 

Prior to being elected, Judge Nash was in private practice.  She has worked as corporate counsel for Thacker Family of Companies, a construction management company in Atlanta, Georgia; the Florida Department of Environmental Protection as lead enforcement attorney for the Solid Waste section; and the Bureau of Emergency Response.

Her internships have included the United States Environmental Protection Agency, Region 6; the Office of United States Representative Sheila Jackson Lee; and the Office of City Attorney of Houston in the Land Use and Environmental Section.

She is a member of the National Association for the Advancement of Colored People; Florida Bar; Georgia Bar; Texas Bar; Dallas Bar Association; J.L. Turner Legal Association; and Delta Sigma Theta Sorority, Inc., Dallas Alumnae Chapter.

On November 3, 2008, Judge Nash was appointed to the Texas Judicial Council by Chief Justice Wallace B. Jefferson of the Texas Supreme Court.  The Texas Judicial Council is the policy making body for the state judiciary.  In 2012, she was reappointed to serve another four year term and has served on the Juvenile Justice, Shared Solutions, Courthouse Security, and Mental Illness Committees.

She has volunteered her time through the Dallas Volunteer Attorney Program, serving the community through the Hurricane Katrina Legal Clinic; the Housing Crisis Center; the Martin Luther King, Jr. Center; and the West Dallas Center.  She has also volunteered at the C.A.W. Clark Legal Clinic at Good Street Baptist Church and currently the Legal Clinic at Friendship West Baptist Church.

Additionally, Judge Nash has volunteered her time with both Dallas ISD and Lancaster ISD schools.  She hosts the Youth Conflict Resolution Annual Mock Trial Summer Program in her court and works with neighborhood associations, churches, and senior centers to provide information regarding the judicial system.  She has also served as PTA Vice-President at Dealey Montessori for 2 years and as Girl Scout Co-Troop Leader of Troop 5396.

Some of her awards include: Elite News; Mable Chandler Distinguished Award; Community Appreciation Award from Concord Baptist Church; Phi Delta Kappa, Inc.; and the 2009 Torch Award from the Urban League of Greater Dallas.
Judge Nash is married to Melvin W. McShann and they have twin daughters, Madeline and McKenna.