Assessment
Mission Statement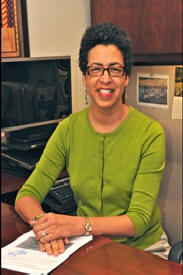 A key unifying theme of the Thurgood Marshall School of Law Strategic Plan is effective assessment. Assessment helps us measure growth toward our fundamental institutional goal, which is to provide our students with a quality legal education that equips them to become ethical, competent, and effective members of the legal profession. To this end, our law school plans to lead the contemporary movement in legal education to a more student-centered, outcomes-based approach to measuring our effectiveness.
The Assessment Department systematically gathers and reports information from measured outcomes to help us evaluate the effectiveness of our programs. We evaluate our curriculum initiatives to determine whether students are acquiring the skills they will need to become effective practitioners. We also collect data which helps us monitor academic and administrative programs, such as our first year orientation program, our bar preparation programs, and academic support initiatives. With the TMSL Center for Legal Pedagogy, we assist in training our faculty on best practices in teaching and classroom assessment.
Goals and Objectives
In keeping with its mission, the Assessment Department has identified the following goals and performance objectives:
Goal 1: Develop effective assessment protocols and data collection procedures for academic and administrative units of the law school
Draft a comprehensive assessment plan that is consistent with and supports the Texas Southern University Strategic Plan and our own Thurgood Marshall Law School Strategic Plan
Design and maintain a comprehensive database of TMSL law school data pertaining to student learning and development
Goal 2: Evaluate the effectiveness of our academic and administrative programs
Collaborate with our professors to assess students' foundational lawyering skills
Collaborate with our law school administrators to evaluate the impact of administrative initiatives, including programs in career services, library services, external affairs, and admissions
Collect and analyze assessment data
Goal 3: Train faculty on effective classroom assessment
With our colleagues in the Center for Legal Pedagogy, conduct faculty develop workshops on best practices in teaching and assessment
Analyze the impact of our teaching enrichment grants. These grants are awarded to TMSL faculty members to encourage the design of cutting edge classroom teaching and assessment protocols that measure student achievement.
Goal 4: Report our findings
Analyze and report data to various TMSL stakeholders
Publish our assessment findings through online forums such as the ERIC database
Network with colleagues in the academy through participation in assessment conferences and workshops
Contact Information

Hours of Operation 8:30am - 5:00pm
Executive Director: Docia L. Rudley (713) 313-1146