L. Darnell Weeden
Associate Dean for Research and Faculty Development and Roberson King Professor of Law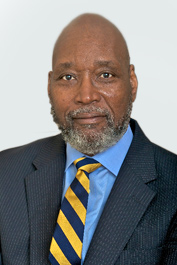 Phone: (713) 313-4249
Email: larry.weeden@tmslaw.tsu.edu
Joined the faculty in 1990.
Education:
J.D., University of Mississippi, Oxford, MS, 1975
B.A., Journalism & Political Science, University of Mississippi, Oxford, MS, 1972
Biographical Information
Professor, Texas Southern University, Thurgood Marshall School of Law, Houston, TX (1990-present)
Associate Dean for Faculty Development & Research, Texas Southern University, Thurgood Marshall School of Law, Houston, TX (2005-2012)
Courses Taught
Constitutional Law I
Constitutional Law II
Torts I
Torts II
Select Publications
Unreasonably Restrictive Voter Photo Identification Requirements Are Unequal Economic Barriers To Equal Access To The Right To Vote, 27 S. Cal. Rev. L. & Soc. Just. 73 (2018) 
A Growing Consensus: State Sponsorship of Confederate Symbols is an Injury-in-Fact as a Result of Dylann Roof's Killing Blacks in Church at a Bible Study, 32 BYU J. Pub. L. 117 (2017)
Marriage Equality Laws Are A Threat To Religious Liberty, 41 S. Ill. U. L.J. 211 (2017)
Transgender Bathroom Rights And President Obama's Unauthorized Scheme To Transform Title IX,44 W. St. L. Rev. 1 (2016)
In Fisher v. University of Texas Derrick Bell's Interest Convergence Theory is on a Collision Course with the Viewpoint Diversity Rationale in Higher Education, 2016 Utah L. Rev. OnLaw 101
The Problematic Right to Abortion Under a Natural Law Perspective, 2 Indonesian J. Int'l & Comp. L. 803 (2015).
Good Public Policy Occurs Under Plyler When In-State College Tuition Rates Are Awarded to Undocumented Bona Fide Resident Immigrants, 25 Geo. Mason U. Civ. Rts. L.J. 191 (2015).
Leadership Matters: Saving Judge Scheindlin's NYPD Racial Profiling Remedy in Floyd v. City of New York, 36 Whittier L. Rev. 95 (2014) (Lead Article).
May Traditional Deference to State Sovereignty Serve as a Rational Basis to Deny Marriage Equality to Same-Sex Wedding Vows?, 16 Loy. J. Pub. Int. L. 201 (2014).
The Supreme Court's Rejection of the Rational Basis Standard in Shelby County v. Holder Invites Voter Suppression, 33 Miss. C. L. Rev. 219 (2014).
Medicaid Expansion, the Patient Protection and Affordable Care Act, and the Supreme Court's Flawed Spending Clause Coercion Reasoning in National Federation of Independent Business v. Sebelius, 61 Clev. St. L. Rev. 1051 (2013).
The Commerce Clause Implications of the Individual Mandate Under the Patient Protection and Affordable Care Act, 26 J.L. & Health 29 (2013).
The Supreme Court's Treatment of the Patient Protection and Affordable Care Act, 12 Appalachian J.L. 49 (2012).
The Supremacy Clause Preemption Rationale Reasonably Restrains an Individual State Pursuing Its Own Separate But Unequal Immigration Policy, 14 Scholar 679 (2012).
Introduction: Race & Immigration Symposium, 44 Ariz. St. L.J. 1 (2012).
African American Voices Should Speak Loudly and Proudly to Protect Undocumented Immigrants from Fundamentally Unfair Discrimination, in Charles H. Houston: An Interdisciplinary Study of Civil Rights Leadership 203 (James L. Conyers, Jr. ed., 2012).
Fifty Plus Years After The Start of The Civil Rights Movement A Contextual Analysis of the Freedom of Association for the National Association for the Advancement of Colored People's Pursuit of Reforming the Law, 12 Fla. Coastal L. Rev. 337 (2011).
In Response to the Call for Social Justice Historically Black Law Schools Represent the New Mission of Educational Diversity in the Legal Profession, 14 J. Gender Race & Just. 747 (2011).
Commentary on Professor Richard Sander's Class in American Legal Education, 88 Denv. U. L. Rev. 851 (2011).
Criminal Procedure and the Racial Profiling Issue for Professor Gates and Sergeant Crowley, 17 Wash. & Lee J. Civ. Rts. & Soc. Just. 305 (2011).
Income Integration As A Race-Neutral Pursuit Of Equality And Diversity In Education After The Parents Involved In Community Schools Decision, 21 U. FLA. J.L. & PUB. POL'Y 365 (2010).
It Is Discriminatory For Arizona Or Society To Engage In The Anti-Immigration Practice Of Profiling Hispanics For Speaking Spanish, 12 LOY. J. PUB. INT. L 109 (2010).
A First Amendment Establishment Clause Analysis Of Permanent Displays On Public Property As Government Speech, 35 T. MARSHALL L. REV. 217 (2010).
Historically Black Colleges Advance Reverse Academic Diversity, 13 N.Y. CITY L. REV. 1 (2009).
Standing And Speaking Constitutional Truth To Local Power Regarding Undocumented Immigrant Residents Dwelling With We The People Of The United States, 34 S. ILL. U. L. J. 55 (2009).
English Only Rules In Public Schools Should Be Presumed Illegal, 34 T. MARSHALL L. REV. 379 (2009).
Race-Conscious Equality Confronts America, President Obama, Justice Sotomayor, Professor Gates, And Sergeant Crowley, 35 T. MARSHALL L. REV. 113 (2009).
Racial Profiling And The Implications Of Jena Six In Undermining The Civil Rights Of Blacks In America, 36 S. U. L. REV. 239 (2009).
Foreword: Immigration Law & Policy Symposium, 34 T. MARSHALL L. REV. 283 (2009).
Local Laws Restricting The Freedom Of Undocumented Immigrants As Violations Of Equal Protection And Principles Of Federal Preemption, 52 ST. LOUIS U. L. J. 479 (2008).
TMSL Law Review 2008 Education Symposium Opening Commentary, 34 T. MARSHALL L. REV. 1 (2008).
Implication Of The No Child Left Behind Act For Educational Equity And Segregation, 4 FIU L. REV. 101 (2008).
The Black Eye Of Hurricane Katrina's Post Jim Crow Syndrome Is A Basic Human Dignity Challenge For America, 37 CAP. U. L. REV. 93 (2008).
Justice Thurgood Marshall And School Integration: Green And Keyes From A Unitary Standard To A Double Standard To A Uniform National De Facto Standard, 27 MISS. C. L. REV. 393 (2008).
Response To Professor Amar: Some Thoughts On The Electoral College's Past, Present, And Future, 34 OHIO N. U. L. REV. 393 (2008).