LL.M. Program in Immigration and Naturalization Law

Beginning in the fall of 2016, Texas Southern University Thurgood Marshall School of Law (TMSL) offered a fully approved LL.M. program focused on immigration and naturalization law. 
This is the first LL.M. program of its kind in the nation devoted to immigration and naturalization law.
The mission of the degree program is to further the law school's commitment to excellence by providing specialized academic and practical legal training for law graduates, to equip them with an array of skills required to effectively practice, identify and solve complex problems, and participate in policy making in the field of immigration and naturalization law. 
The LL.M. degree is a natural complement to TMSL's Juris Doctor (J.D.) program, which already is heralded for its institutional reputation for expertise in the field, including the continual success of its Institute for International and Immigration Law launched in the fall of 2002. By offering an advanced degree in immigration and naturalization law, TMSL maximizes its reputation such that the law school impacts the evolution of the law and polices that shape immigration and naturalization law and its practice.
Application deadline: Applications for fall 2021 will be reviewed on a rolling basis until the program is full.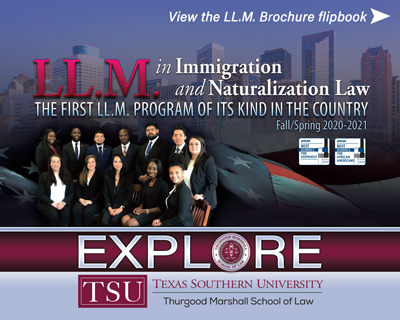 CLICK HERE to apply:

---
Organizational Structure
Associate Dean of Admissions
Michelle Rahman
Office Number: 214, Second Floor

Andreience Fields
Interim Assistant Director of Admissions
713.313.7115
Lauren Fedele
Admissions Coordinator
713.313.7114
Pearly Pendenque
LL.M. Office Administrator
Pearly.Pendenque@tmslaw.tsu.edu
713.313.7111
Karen Percival
Financial Aid Counselor
Karen.Percival@tmslaw.tsu.edu
713.313.7243
Fernando Colon-Navarro, Esq.
Professor of Law and LL.M. Program Director
Phone: 713.313.1918

Vy Nguyen, Esq.
Clinical Professor and L.L.M. Ass't Program Director
713.313.1003