Housing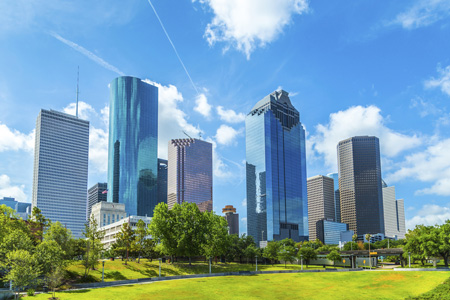 Downtown 
Downtown Houston is brimming with the fast pace of the business world during the day and at night is filled with endless possibilities for social events. This area is accessible from all of the major highways and interstates. Downtown you will find theatres and posh restaurants. As the city is constantly growing, there is always a new building being built or a street being widened.

Inside "The Loop"
The area traversed by Highway 610 are said to be within "The Loop" because this highway loops almost completely around the inner parts of the city of Houston. This interstate will take you from the Medical Center to the Galleria and pass Midtown. Inside "The Loop," you will find apartment communities that come with a wide range of pricing. 

Medical Center/Reliant Stadium Area
The Medical Center got its name because of the many prestigious hospitals and medical schools located in this vicinity. The Museum District, Houston Zoo, and Hermann Park are just a few of the attractions found in this area. 

Galleria
The Galleria is home to upscale business and first class shopping. It is very convenient as it is off Interstate 59 and in the heart of "The Loop." The cost of living may be a bit higher when compared to the other sides of Houston but it is home to many of our students. 


On Campus Housing
Although the Texas Southern University does provide on campus housing, there is no distinction between undergraduate living and graduate living. We caution students that this environment may not be conducive to one seeking a professional degree.
APARTMENT HUNTERS
Students often need assistance when searching for apartments. It can be quite tedious when trying to relocate to a new city. Below are apartment locators and websites that you may find helpful in your search:
Martha Turner/Sotheby's International Realty
Free Apartment Locating Services
Office: 713.558.3326

Internet Locators
www.apartmentguide.com
www.chron.com/class/index.html
www.houstonpress.com
Last Minute Tips
• Be sure to tell the apartment locators where you want to live. Usually the narrower the search, the better the results.
• Ask the rental offices their policies pertaining to student renters. Many offer student discounts!!
• Have at least one month's rent saved to cover the cost of the security deposit. Depending on the time of year, you may be able to catch a special.
If you are interested in purchasing a property, you should try www.har.com. This site will show some of the many beautiful homes found in the city of Houston.
Admissions
Requirements for International Students
---