---
Message from the Director Sarah R. Guidry
"Be the change that you wish to see in the world."

— Mahatma Gandhi —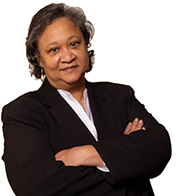 The Earl Carl Institute is dedicated to identifying potential implementable solutions to legal and social issues disproportionately impacting the communities of color and other disenfranchised populations. The Institute pursues, through academic and grassroots efforts, opportunities to promote policy changes for the betterment of the urban community and to fulfill the missions of the Institute, Thurgood Marshall School of Law and Texas Southern University.

Current ECI free legal services programs include the Opal Mitchell Lee Property Preservation Project,the ECI Juvenile Justice Project and the Thurgood Marshall School of Law Innocence Project. ECI provides law students opportunities to gain experience working with clients, lawyers and courts through its three clinics.

ECI's focus is on providing research based policy advocacy through direct legal services and written materials addressing issues that have a disproportionate impact on people of color, as well as other populations traditionally disenfranchised, on a local, state and national level. Current research projects involving disproportionate minority involvement include: Homelessness, teen dating violence, decriminalizing poverty, pretrial diversion, human sex trafficking, incarceration versus education, and issues involving disproportionate minority contact in the juvenile system.

ECI generally undertakes projects that are interdisciplinary in nature and have one of three outcomes (1) Student Development, (2) Public Policy Initiatives, and (3) Community Education. ECI's operations are primarily facilitated through its four centers: (1) Center for Civil Advocacy, (2) Center for Criminal Justice, (3) Center for Government Law and (4) Center for Research, Writing and Student Development.

ECI also undertakes Special Projects involving interdisciplinary partnerships and collaborations. Current special projects include the ECI Interdisciplinary Journal for Legal & Social Policy, the TMSL Street Law Program, and annual symposiums on juvenile justice, indigent defense, and the annual ECI Journal Special Issue conference. ECI policy or position papers target academia, the Texas Legislature, other political actors, Texas Department of Criminal Justice, Judges, attorneys and other vested interests, including civil rights and advocacy groups, and individuals from other disciplines as well as the community at large.

We would love to hear from you about issues impacting your life. Please visit us at our offices on the Texas Southern University campus. Consider supporting our work through your tax deductible donation or become a part of the movement by volunteering with our organization.

Make a One-time Donation
---