Meet the Office of Career and Professional Development Team at
Thurgood Marshall School of Law

Nikki Wright Smith serves as the Assistant Dean of Career and Professional Development at Thurgood Marshall School of Law. Prior to joining Thurgood Marshall, Smith spent twelve years as a practicing attorney in Atlanta, GA and Houston, TX. Most recently, Smith was the owner of The Wright Smith Firm, a solo practice where she focused primarily on consumer bankruptcy, residential real estate, family and employment law. Her experience also includes positions as managing partner of Smith & Stewart, P.C. and as an associate attorney at King & King, PC, a large consumer bankruptcy practice in Atlanta.

Smith has always had a passion for working with law students and helping new attorneys with their professional development and she's worked extensively as a volunteer in various capacities at law schools mentoring young lawyers.

In her role as Assistant Dean of Career and Professional Development, Smith is responsible for cultivating employer relationships between the law school and employers, locally and nationally, for the professional development of law students, and preparing students for the practice of law or the professional career of their choosing.

Smith is admitted to practice in Georgia and Texas and is actively involved in the Houston Bar Association. She holds a Juris Doctor from Thomas M. Cooley Law School and a B.S. in Political Science from the University of Georgia, where she also obtained a Minor in Spanish and Global Studies.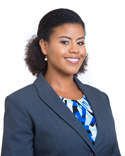 Ashley C. Scott serves as the Assistant Director of Career and Professional Development at the Thurgood Marshall School of Law. Prior to joining Thurgood, Ms. Scott worked as a Senior Career Specialist at the University of Houston Law Center. Ms. Scott is originally from Baton Rouge, Louisiana. She earned her Bachelor of Arts in Political Science, summa cum laude, from Florida A&M University and her Juris Doctor degree from Columbia Law School in the City of New York. While in law school, Ms. Scott served as the chapter president of the Black Law Students Association, as a member of the Student Senate, and on the editorial board for the Journal of Gender and Law. She is licensed to practice law in New York and Washington, D.C., where she practiced commercial litigation at two Am Law 100 firms. In practice, Ms. Scott primarily advised clients in their defense against commercial and class action law suits and government investigations.
While in practice, Ms. Scott served on the professional development, diversity and associate committees and assisted with recruiting at each of her firms. She also mentored and actively sought opportunities to assist diverse law school candidates, law students, and junior attorneys with their career and professional development needs. After leaving practice, Ms. Scott spent a year abroad as a teacher and administrator in language schools in Peru, South America. Her experience in Peru confirmed her commitment to working with students, and she returned to pursue this passion in a career services role. She is excited to now help Thurgood Marshall's Office of Career and Professional Development meet its mission of enhancing the legal education students receive in the classroom while helping them strategically navigate an ever-changing job market.
Heather Alaniz, is a native Houstonian. Recently, she completed her Doctorate of Philosophy in Administration of Justice at Texas Southern University. Ms. Alaniz earned a Bachelor of Science and Master of Arts Degrees in Criminology from the University of Houston Clear-Lake (UHCL). Upon graduating from UHCL, she taught at Wiley College in the Criminal Justice Department and remains teaching as an Adjunct Instructor at San Jacinto College. She has also worked at various litigation law firms in Houston. In her capacity as Senior Administrative Assistant – Legal, Ms. Alaniz will support the Offices of Career and Professional Development*, Institutional Advancement, and External Affairs. She is excited to have this opportunity and is committed to serving the law school.